The Oaks Cafe was a welcome addition to Acorn Nursery when it first opened in 1996. Ever since, it have been the meeting place of choice in Surrey Hills. Join us for a coffee, breakfast, lunch, dessert, or even a sneaky wine. It's not just for the locals, our customers travel great distances to visit us for a meal in the beautiful surrounds of Acorn Nursery.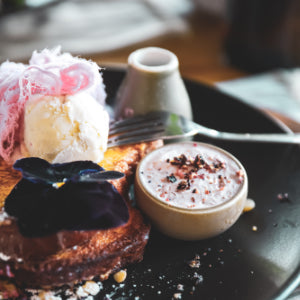 Breakfast - served til 3pm every day

We update our breakfast menu seasonally to take advantage of the superior flavour of in-season produce. We always use free-range eggs and the highest-quality ingredients we can find. Whether you're after sweet or savoury, it's the perfect way to start the day.
Lunch - served from 11am every day

Our lunch menu varies daily, depending on the season and our chefs' inspiration. Perennial favourites include fresh salads, delicious focaccia and, of course, ribbon sandwiches—we think there'd be a riot if we took those of the menu!

Desserts

See our display cabinet for a delectable array of cakes, slices and biscuits. It's always changing and always delicious! We bake our muffins fresh each day and our pastries are supplied by the renowned Noisette Bakery.

Coffee

Oaks Cafe chooses to use Di Bella coffee, which is 100% fair trade. It is blended, roasted and distributed daily from their roasting house to ensure we're serving the freshest specialty blend available.